Those of you that regularly check in with what 4G4H has been doing may remember that a few months ago we hosted an online auction. The auction was to raise money towards the cost of our new Christmas CD, which will be released at the end of this year. The top prize was the chance to book a concert from the group in a venue of the bidder's choice
, and we were delighted (and extremely grateful!) when harp impressario Geraldine McMahon was our winning bidder!
Geraldine is a harpist and also runs a successful business Affairs of the harp, catering to harpists from all walks of life, whether it be buying or selling a harp, providing harps for theatres and cruise ships, selling beautiful harp merchandise and even information on how to learn the harp and find a teacher!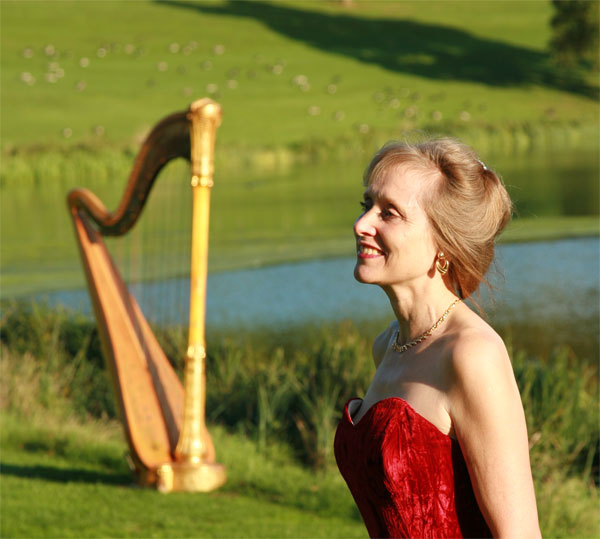 Geraldine and her harp
We thought you would like to know a little bit more about Geraldine and her business so we thought we'd ask her a few questions:
What drew you to the harp?
I went to a Grammar school in London and there happened to be a harp there – locked away in the staff dining room !

I was lucky enough to be able to start harp

lessons and I loved it. I was a relative late starter – I began lessons at 12 years of age – but I had played the piano from the age of 7. I used to stay behind after school to practise and go in at weekends – on Saturday mornings. It was a Convent School – so the nuns were always around to let me in and out !I was so lucky to have that opportunity – I was one of a family of 5 and my parents could not afford a harp.

I eventually got my own harp and

that was because my teacher – Gwendolen Mason – was moving from a big house in London to a small cottage in Cirencester. She had to downsize, obviously, and she sold my mother an Erard harp for a "giveaway" price.
What harpists do you admire and why?
This is a difficult question ! There are so many fabulous harpists that I admire.

Historically my favourite has to be Grandjany for the technique, repertoire and the legacy that he has left for

harpists. Modern day harpists Xavier de Maistre – his technique and his transcriptions of Orchestral works that are simply wonderful ! Catherine Michel, Suzanne McDonald, Nancy Allen, Marisa Robles, all fabulous harpists who all in their own way are marvellous performers and teachers. My own harp teacher, Daphne Boden, who actually turned my technique around ! It was, I have to admit, pretty appalling – legacy of some awful

teaching – until I went to her.

She was a very patient and a marvellous teacher. She has turned out some phenomenal

harpists- well, 4 girls 4 harps are a case in point !
Affairs of the Harp is pretty unique! When and what made you decide to start it up?
I came up with the idea in 1998 – I realized that there were no shops around in which to buy second hand harps.

I had begun to import Lyon and Healy harps – I had lived in America for nearly five years ( and in Chicago for 2 years) and that was where my love of Lyon and Healy harps began ! There was also no source of harpists- I would often hear the comment from people that they had looked for a harpist for a function but couldn't find one. So, I set up the website. It took me nearly two years to get it up and going- the first "webmaster" was good but seemed to lose interest half way through ! The second wanted to present the whole website in a very black and white business like way – but that is not "harps"! I knew what I wanted and eventually got there ! The title seemed very apt !

People laugh when I tell them that the website is called "Affairs of the Harp " – but they remember it !
What challenges have you faced in running a business over the years? Is the fact you have

a selective market helpful or a hindrance?
One of the main challenges has been to keep the business going in a pretty tough economic climate.

It is a very small business and

luckily I do not have massive overheads to pay. Because it is my own business

it is very much a twenty four hour a day job ! I will sometimes get phone calls at 11.30 at night!

I had an agent once phone me at midnight on a Saturday night

in an emergency – a harp was needed to go onto the Queen Mary Cruise ship the next morning at 7.00 a.m. I got it there !

A large corporation could not do that – firstly there would be no-one in the office at 11.30p.m.

to answer the phone !
The fact that I have a selective market is helpful –

the harp world is utterly delightful

!

But mainly from the point of view that I do not want to expand massively and become a huge business . "Affairs of the Harp " has an identity and individuality that I would not like to lose.
I feel

that if the business became very big and money orientated, the charm would go !
Where would you like to see Affairs of the Harp in 5 years time?
I would love to see "Affairs of the Harp" known and recognized across Europe ! I have had many buyers come in from Germany, Spain, Portugal, Holland and Italy and I would like to see that client base very much expanded. I speak French and some Italian and am doing a German degree – so I hope that that will be helpful in a few years time !
Do you stock any unusual items and have you ever had any strange requests from customers?
This is a fun question ! Harp wise- I have one unusual harp – well, really, more unique ! It is a stunning Salvi Electra Harp – about 30 years old but in immaculate condition. It belonged to an old lady who had had it from new and she died and her family wants to sell it. It is simply stunning!

The Electra is not made any more

and this harp is simply beautiful – even just to sit and look at !
I also have one harp – unplayable- that

I keep for

theatre productions of "The Price". It is a play written by Arthur Miller and the stage props include a harp.

It has been in theatre productions all over the country and was even used by the Royal Shakespeare Company.

My "Affairs of the Harp" was named in the

RSC programme ! I am very proud of that !

I think that harp deserves its equity card !
I am currently working on a range of excellent quality tote bags and tee shirts all with harp related themes – "Home is Where the Harp is", "I left my Harp in San Francisco" and so on !
I found a wonderful artist who has come up with some fabulous artwork which I have commissioned !

The items are unusual, unique

and I have to say fabulous! (I am just a little bit biased !)

You can find them in my online shop on "Affairs of the Harp" .
Strange requests? I get them all the time !

I have people who want to buy a harp that must have a colour or finish to match their dining room furniture. I had one man who hired a harp off me – he was a mature student beginning harp lessons- and I hired out a particularly beautiful old gold and maple lyon and Healy. He phoned me up two days later to take the harp away – his wife didn't like it because it didn't go with the décor of the room. She didn't like the gold and wanted a plain harp.

I had one lady who wanted an ebony gloss harp because her daughter had "exotic colouring- olive skin and dark eyes"

– and the harp would set off her looks.

I am not making it up !!
One of Geraldine's T Towel designs
What is your favourite piece of harp music?
I have several ! I love the Gliere Harp concerto. The Smetana

"Ma Vlast"

transcription .

I also recently heard a concert of Schubert and Strauss Lieder sung by Diana Damrau with Xavier de Maistre on the harp.

There were arrangements of some superb lieder – which are normally accompanied, obviously, by piano, b
ut Xavier de Maistre's arrangements were stunning.

My favourite was the last of Strauss' "Four last Songs"Beim Schlafengehen" . The orchestration

for the "Four last Songs " is simply superb and what Xavier de Maistre did with his harp arrangement

was outstanding – so creative and full of the colour that Strauss put into the original score.
So, that particular piece tops the bill of my favourites at the moment ! (Along with his "Notte Veneziana " album

! )
What made you decide to bid on the 4G4H auction? You bid for the main prize (a concert by the group) - do you have anything specific in mind for this?
I very much admire the group – all excellent and creative harpists – and I have the first cd! When I saw that a Christmas Album was being planned and that an auction was online to raise funds for the cd, I thought I would bid for something.

I bid for a "mention" on the Cd but then thought that I would go for the concert !

There is a series of concerts run every Summer

in Cambridge and I approached the organiser of those concerts. She was delighted with the prospect of having 4 Girls 4 Harps for a concert and from that a second concert in Cambridge has been organised. It is on Saturday November

23rd . There is a wonderful

music scene in and around Cambridge but not enough harp music

and very few harp teachers !

It would be marvellous if more concerts for the quartet came from this – but mainly, lots and lots of cd sales for the group !!
What is your favourite way to relax?
My favourite way to relax?

Walking my dog ! I have a crazy but adorable dog

and I walk her for miles in my local park or the countryside around St Albans. I also love reading and the theatre but my main passion is Opera ! I head off to Covent Garden when I can and Glyndebourne in the Summer. I just saw the most wonderful production of "Billy Budd " there- simply superb. I don't go off on expensive holidays – my holiday is the Opera !
How do you feel about the UK harp scene at the moment - is it vibrant or do you think we need to do a lot more to promote the instrument to a wider audience?
The UK harp scene is very lively at the moment ! There are some great harp festivals taking place around the country and there are some fantastic young harpists on the scene. There is always more that can be done to promote anything in the arts – I despair of the fact that the government is cutting back money for the arts all the time – especially music funding.

In spite of that, music and harp music and performance is flourishing!

The harp has become a more popular and accessible instrument – thank goodness ! When I started out in school there were very few harp teachers

and not many harps – those that were available to students were generally old Erards that had seen better days !

Look at the harp world now ! So very different!
For more information about Geraldine, you can visit her websites http://www.geraldinemcmahon.com/ and http://www.affairsoftheharp.com/