Another month has flown by and Christmas is hot on our heels. We are delighted to reveal the next person in our series of composer interviews is the ensemble's very own
Eleanor Turner
!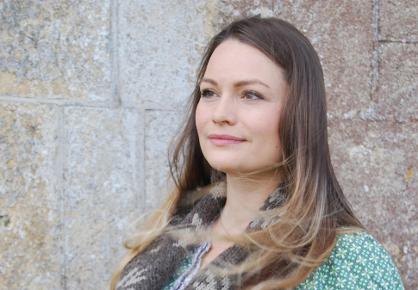 Eleanor has been involved in writing and arranging for us pretty much since we first started playing together. An internationally recognised harpist as well as composer, Eleanor has written two pieces for us to play as well as countless other arrangements. The first piece, 'The Island' was written in 2002 whilst she was pregnant with her son, and even features the sound of a baby's heartbeat in the womb! The second piece, 'Rambla!' was composed a few years later, in 2008, and depicts the flashfloods that can happen in Spain - full of fiery spanish rhythms and panache, it is great fun to play! You can listen to 'Rambla!'
here
As a performing member of 4G4H what do you like most about writing for the group?
I love writing for an instrument I know so well and have at hand to try things out on. I try to imagine a certain sound, especially a particular texture I could only get from using four harps and then use a combination of compositional techniques and trickery (such as recording and layering parts on my laptop, or using a loop pedal) to get the best idea of how the effect will sound across four of the same instrument. It can take a long time to work out how to achieve a certain sound for the first time, but then it is in your repertoire as a technique that you can draw on in future compositions.
Have you always composed alongside your harp playing and do you ever feel tempted to go into composing on a more full time basis?
My first piece for the harp was called "A Sad Farewell" – the harp can be such a melancholic instrument and even pieces written in major keys can sound so longing and sad on the harp! I love playing all my emotions into the harp and find playing it and writing for it deeply therapeutic. I worry that if I composed concert music full time I would go into a darker place, in my mind, more often than would be good for me. However, my main ambition is to study composition further, in particular to attend some courses for song-writing and also writing music for films. (There is a Faber Music course I would love to go on when my children are older.)
I can definitely imagine writing music for nature documentaries and would love to do this; this would mostly be happy music, which I have plenty of inside me as well
What musical styles are you most inspired by – is there any particular composer or piece that you identify with?
I love so many different styles but as a constant, I have always been passionately into Shostakovich and his music. As a teenager, I used to keenly spend my birthday money on a subscription to the DSCH journal (the twice-yearly printed magazine, dedicated to the life and works of Dmitri Shostakovich). There were two peaks of happiness in my year, therefore, when this journal would drop onto the doorstep, and the memory of that excitement still makes me shiver! I also had a hamster that I named Dmitri, in honour of the great man.
Are there any challenges in writing for four harps – what do you find most frustrating?
The only frustrating thing for me is finding the best way to notate harp effects and complex passages of writing. Sometimes you are looking at a mass of confusing arcs all over the music: tied notes, phrasing arcs, notes to 'let vibrate' without damping and maybe one or two special harp effects going on all at the same time – perhaps colour-coded scores will be my next venture!
You have composed two pieces for 4G4H; 'The Island' in 2002 and 'Rambla!' in 2008. What – if anything – has changed in your compositional style between the two pieces? Did you change anything in your approach to writing with the second piece?
Almost everything about the two pieces is different. The first time, writing for the group, I spent a lot of time imagining and conceiving grand ideas and wonderful twangings and clangings of all 4 harps, either playing all together or having solo moments. By the time I wrote 'Rambla', I had six more years of experience with the harp quartet and it was rather a luxury to be able to learn from other composers', and arrangers', mistakes, as well as my own. Rambla emerged much more naturally, usually sitting at the harp to compose it, engaging many of my favourite effects (I love the 'whispering' tremolo effect called
bisbigliando
) and freely moving between using one, two, three or all four harps at any moment.
Do you compose for anything other than harp (or harp with other instruments)?
Yes I do, but not really at the moment. I am also terrified of writing for brass which I would love to get over at some point. I am currently writing songs with a Dutch singer-songwriter called Angela Moyra, who occasionally asks me to send her over sound files of 'mystical harp goodness' – well, it's a hard life, but if I must…
As a harpist, is there anything that annoys you about how today's composers write for the instrument?
I sometimes feel it can be a little soulless and relying too heavily on the beauty of the harp's sound. That may be why I commissioned my dear friend Thomas Hewitt-Jones to write me a solo piece, about five years ago now. The result was 'Spirits of the Night' which I re-named, for myself, Shades of Grief, as the first time I played through it I found myself playing through tears that just kept coming the more I played.
What about your life most inspires you to compose? On a similar note, what do you do if you get writer's block?!
I have never been very good with words – getting a poem or an essay out of me at school was like getting blood out of a stone. I am very slow at writing anything, in fact. I wouldn't say that was writer's block, in particular, although I do have memories of donning a coat on top of my nightie and pacing angrily around the block, trying to make an idea come to the fore. In general, music flows more easily for me than words do and I love improvising. Composition for me is a combination of learned skills, structure, improvising, and always wearing my heart on my sleeve
What Hollywood actress would you choose to play you in a film?
Going back in time for this one I'm afraid, it could only be Lucille Ball.
What three things would you take with you to a desert island?
My two kids and a harp of course! (The harp could double up as a raft….)